Subject: Featured Card #1: Solemn Warning

Tue Oct 09, 2012 4:08 am
(Yes I know, it was originally number 4 but I don't have access to them anymore so we'll just start again from 1)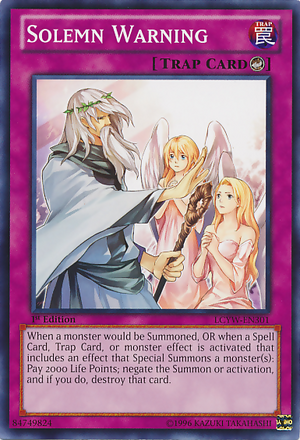 Pay 2000 Life Points. Negate the Summon of a monster OR the activation of a Spell Card, Trap Card, or Effect Monster's effect that would Special Summon a monster(s), and destroy that card.
Like Sabb has said on his article, while life points are important in a duel, it is crucial to maintain field control and hand advantage. This card is a staple in most decks and unless the deck doesn't run traps in general, it really should not be left out. While the 2000 LP requirement does make it potentially dead, the pros of this card outweighs the few cons.
Even with priority gone, Solemn Warning remains superior to it's similar counterpart; Bottomless Trap Hole. In today's meta where the main monsters are 1500 attack points or less (Rabbit, Inzector, Wind-Up), Warning does a better job at negating the summon of opponent's monsters. Also, unlike Bottomless, Warning stops trigger effects (e.g. Stardust). Even though Black Horn of Heaven does a similar job, it only hits the special summon of monsters when it hits the field. Unlike Warning which also negates key spells/traps such as Future Fusion or Rekindling which, when pulled off, generates massive advantages for the opponent.
With so many deck combos relying on the successful summon/effect of a monster or the activation of a spell/trap, Solemn Warning stops them right away and also clears the field for you to take advantage of.
So what do you think? Is it still a staple or with two torrential/bottomless, is the 2000 LP requirement just too much risk?