Here is the new Utopia... monster... warrior... thing...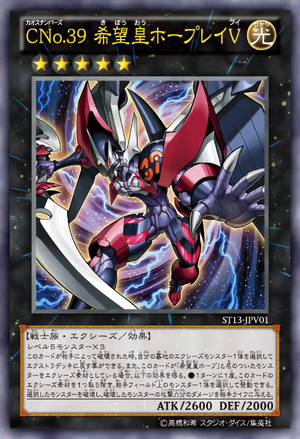 Quote :




Name -Number C39: Utopia Ray V
Rank - 5
Attribute - Light
Type - Warrior/Xyz/Effect
3 Level 5 monsters

When this card in your possession is destroyed by your opponent's card (either by battle or by card effect): You can target 1 Xyz Monster in your Graveyard; shuffle that target into the Extra Deck. If a "Utopia" monster is attached to this card as an Xyz Material, this card gains this effect.
● Once per turn: You can detach 1 Xyz Material from this card to target 1 monster your opponent controls; destroy it, and if you do, inflict damage to your opponent equal to the destroyed monster's ATK.


Attack - 2600
Defense - 2000
... Seriously... What... the... Fudge... I do not even know where to begin with this, other than Classic Dark World Builds have easy access to him, or people who actually use Barian cards. How did Konami or the anime come up with this one?
The Name doesn't quite roll off the tongue like Utopia Ray does... or in it's Japanese name Hope Ray... Since the name implies hope in the darkest moment. So what do I say? That I am mad that they made a card that can be only used by two means. Decks that run Barian cards, and Dark Worlds.... And I suppose the letter "V" stands for Victory? Not sure how that is clever... If the card would only be optional if you had no Xyz material left on Utopia Ray to begin with...
Oh well. Another Utopia Monster, meaning probably another Shark Drake around the corner or another Galaxy-Eyes as well... So what gives Konami!? My money isn't good enough for you!? *slams his wallet against the laptop screen*
ERRG! YOU WANT MORE MONEY! THEN TAKE MAH MONEY AND MAKE IT MORE EASY TO SUMMON FOR ME TO EXPLOIT LIKE RESCUE RABBIT OR STUFF!!!
... *cough* I digress... Errhm...
With all my complaining aside. I love the art, I really do. I like how it sort of incorporates Yuma or his ZEXAL form in the least in some way.
The effect is a bit... um... not that great. I'd expect it to be more reliable in a sense, but with a 100 Attack boost greater than it's predecessors, I guess it is something to consider. Especially with the burn damage dealt after getting over some large monster... AS LONG as a Utopia is attached to it. Wao...
Plus it is Honest compatible...
I guess, it is okay. Not much to brag about.