After a bit of playtesting myself, I decided to write a Deck Guide about Galaxy Photons because they're better than I initially thought. They're no Tier 1 Deck, but they have enough power to stand up against the current meta decks.
Key Monsters
Galaxy-Eyes Photon Dragon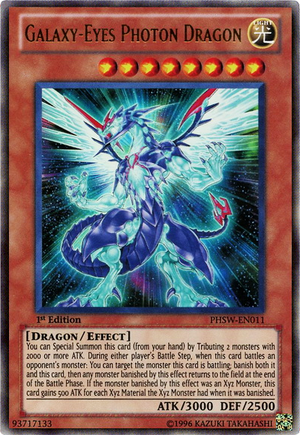 Code:

You can Special Summon this card (from your hand) by Tributing 2 monsters with 2000 or more ATK. During either player's Battle Step, when this card battles an opponent's monster: You can target the monster this card is battling; banish both it and this card, then any monster banished by this effect returns to the field at the end of the Battle Phase. If the monster banished by this effect was an Xyz Monster, this card gains 500 ATK for each Xyz Material the Xyz Monster had when it was banished.
Let's start with the very first Galaxy/Photon card that was released. It is also the main card in this Deck which most of your plays will resolve around. It cannot be destroyed by battle unless your opponent has a card like Skill Drain or Light-Imprisoning Mirror face-up. The 3000 ATK is big, but when you attack a facedown monster with this card, you can banish it and clear the path for your other monsters, which is what you'll most often use this card for. Even though you CAN Special Summon this card by Tributing 2 monsters with 2000 or more attack, it is highly advised not to do that. You will have plenty of ways to bring this card to the field, so don't be tempted to -2 yourself to summon this card. It can also become a "meatshield" when you need to draw your cards. Be wary that this card has the same weakness that Stardust Dragon/Assault Mode has: when your opponent lures its effect, you can be wide-open to a direct attack and possibly even OTK.
Always run 3.
Galaxy Knight
Code:

If you control a face-up "Photon" or "Galaxy" monster, you can Normal Summon this card without Tributing. When you do: Target 1 "Galaxy-Eyes Photon Dragon" (if possible) in your Graveyard; make this card lose 1000 ATK until the End Phase, and if you do, Special Summon that target (if any) in face-up Defense Position.
Our OCG card that really packs the punch this Deck can deliver. By having a Galaxy-Eyes Photon Dragon in your Graveyard, this card becomes a +1 giving you 2 big beaters to the field or it can become an instant Rank 8, which no other card currently in this game can do. Note how this is a Normal Summon and not a Special Summon, so you can still bring this card out even when your opponent is locking you down with cards like Kristya. It's ATK drop only lasts until the End Phase, so even if you don't Xyz with this card, you'll still have an instant 2800 beater on the field. An important thing to keep in mind is that the ATK drop will still occur even if you don't have a target in your Graveyard.
Always run 3.
Galaxy Wizard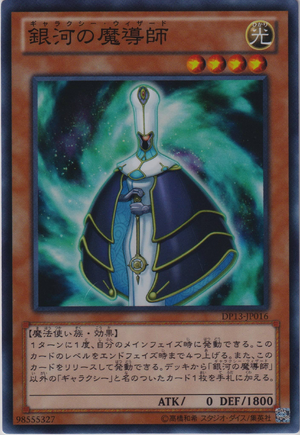 Code:

Once per turn: You can increase this card's Level by 4, until the End Phase. You can Tribute this face-up card; add 1 "Galaxy" card from your Deck to your hand, except "Galaxy Wizard".
Another OCG card and this is what sticks the entire Deck together (along with Galaxy Expedition). The fact that this is practically a Normal Summonable Level 8 allows for yet again easy Rank 8 Xyz options but it can also instantly meet Galaxy Expedition's conditions. It is also your main search card that doesn't have any kind of restrictions. It can grab both monsters and spells/traps, which only a few other search cards can do. It cannot grab a copy of itself, but that is undesirable anyway, most of the time you will be grabbing Galaxy Expedition or you will grab Galaxy-Eyes Photon Dragon (if you have a Trade-In). Really straightforward and really powerful.
Always run 3.
Photon Thrasher
Code:

Cannot be Normal Summoned or Set. Must first be Special Summoned (from your hand) while you control no monsters. If you control another monster, this card cannot attack.
Thrasher sets up instant Galaxy Knight plays and is a solid 2100 beater to run over Rai-Oh (which can be a thorn in the eye for Galaxy Wizard). Even if the opponent negates its summon with Rai-Oh (which they most likely would unless they have backrow), you still have your Normal Summon for Galaxy Wizard or other cards. Also allows the deck to make Rank 4 Xyz Summons which can be lifesavers.
Run 2-3.
Honest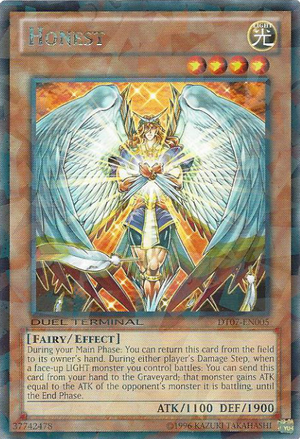 Code:

During your Main Phase: You can return this card from the field to its owner's hand. During either player's Damage Step, when a face-up LIGHT monster you control battles: You can send this card from your hand to the Graveyard; that monster gain ATK equal to the ATK of the opponent's monster it is battling, until the End Phase.
This is a Light-based Deck. 'Nuff said.
Always run 1.
Key Spells
Galaxy Expedition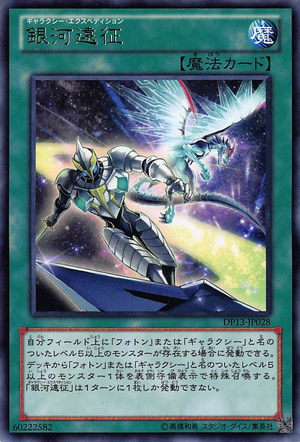 Code:

If you control a Level 5 or higher "Photon" or "Galaxy" monster: Special Summon 1 Level 5 or higher "Photon" or "Galaxy" monster from your Deck in face-up Defense Position. You can only activate 1 "Galaxy Expedition" per turn.
Mentioned before in Galaxy Wizard's description, this is your most powerful Spell. You will always summon Galaxy-Eyes Photon Dragon with this, unless you somehow are left without targets. Even if you are forced to summon Galaxy Knight, it still brings an instant Level 8 beater to the field, which sets up plays for both Xyz'ing or an offense for your next turn since Galaxy Knight still has a respectable 2600 DEF. Much like Galaxy Wizard, really straightforward and really powerful.
Always run 3.
Trade-In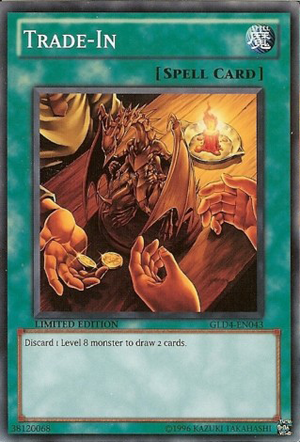 Code:

Discard 1 Level 8 monster to draw 2 cards.
Most of you will probably already know this card and its purpose in most Decks. Other than the added speed, this card can also instantly dump a Galaxy-Eyes Photon Dragon in your Graveyard for Galaxy Knight to plus with. Since we have 6 Level 8 monsters, which are searchable too, this card is almost never dead. However, Galaxy Expedition will summon those Level 8's, so you might run out of targets later on in the duel.
Run 2-3.
Key Traps
This Deck doesn't run any Trap cards that are needed to make this strategy work. You can even opt to make a Turbo variant which foregoes the use of Traps completely.
Key Extra Deck cards
Hieratic Sun Dragon Overlord of Heliopolis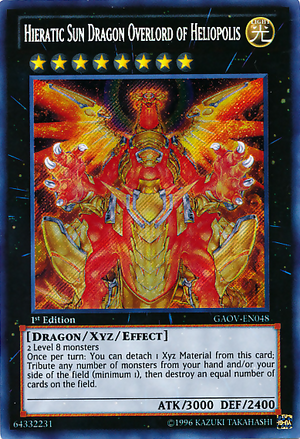 Code:

2 Level 8 monsters
Once per turn: You can detach 1 Xyz Material from this card; Tribute any number of monsters from your hand and/or your side of the field (minimum 1), then destroy an equal number of cards on the field.
Your generic Rank 8 Xyz. It is currently the best generic Rank 8 and the one you will be making the most to clear your opponent's field for a direct attack.
Run 1-2.
Radiant Photon Paradios
Code:

2 Level 4 LIGHT monsters
Once per turn: You can detach 2 Xyz Materials from this card to target 1 face-up monster your opponent controls; the target's ATK becomes 0, and negate its effects. When this card on the field is destroyed by your opponent's card (either by battle or by card effect) and sent to the Graveyard: Draw 1 card.
A decent Rank 4 monster. The fact that it lowers any kind of ATK to 0 is what Beatdown Decks like these really appreciate. It's ability to negate an effect can also come in handy from time to time. It's also still a "Photon" monster, which allows you to make Galaxy Knight plays. It's 2000 ATK could've been better, but at least it stops your opponent from crashing their Rai-Oh's and Card Troopers into this, which is helpful for this card's survivability. And last but not least, when it's destroyed you get to draw a card. Draws are always nice.
Run 1-2.
Honorable Mentions
Photon Crusher
:
http://yugioh.wikia.com/wiki/Photon_Crusher
A decent Normal Summonable Beater, although Thunder King Rai-Oh is arguably better. Only run this card if you are scared of opening with too much Galaxy-Eyes Photon Dragons.
Photon Slayer
:
http://yugioh.wikia.com/wiki/Photon_Slayer
A really powerful monster but it makes the Deck even more combo-reliant. It can be your second Galaxy Knight "activator", but only if your opponent has an Xyz themselves or if you left your field with just Heliopolis. It does allow the Deck to make Rank 5 Xyz Summons, but they would require quite a bit of investment and this Deck doesn't generally need Rank 5 monsters. The fact that it Summons itself in Defense Position is what really hampers its utility, since it only has a measly 1000 DEF.
Photon Satellite
:
http://yugioh.wikia.com/wiki/Photon_Satellite
Yet another way to make Rank 5s and arguably better than Slayer in doing so. This one doesn't allow you to Normal Summon Galaxy Knight because it is a Normal Summon itself however. And since there are no Rank 5 "Photon" or "Galaxy" monsters, it can not set one up a turn later either.
Photon Sanctuary
:
http://yugioh.wikia.com/wiki/Photon_Sanctuary
At first sight, this card looks really good. It instantly summons 2 Level 4 Tokens with 2000 ATK and since this Deck mainly consists of Light monsters, it's Summon "restriction" isn't really a restriction at all. Unfortunatly, you can't attack with these Tokens and they are initially summoned into Defense Position, which easily turns them into food for your opponent's monsters, which in turn makes this card merely a semi-decent stall card. If this card could be searched out by Galaxy Wizard, it would be much better and most likely a Deck staple, since it allows you to instantly summon Galaxy-Eyes Photon Dragon if you open Wizard + Photon Dragon. Unfortunatly, you'll have to rely on drawing this card, which really lowers its usefulness.
Accel Light
:
http://yugioh.wikia.com/wiki/Accel_Light
An "A Hero Lives" without cost? Yes please. Except... it's not. This card's restriction prevents it from doing what caused "A Hero Lives" to become Semi-Limited. The only decent targets are Galaxy Wizard or Photon Thrasher for an attack/damage. Only run this if you want to increase your chances of opening with Galaxy Wizard.
Galaxy Zero
:
http://yugioh.wikia.com/wiki/Galaxy_Zero
A pretty decent card, since it can Special Summon almost any monster in this Deck. However, the summoned monster cannot activate its effect, which means you can't use Galaxy-Eyes Photon Dragon's "shield" effect and you can't get a search with Wizard. But once this card leaves the field, they can. Since Galaxy Wizard has 0 ATK regardless and Galaxy-Eyes can just banish itself to "reset" its ATK, the downside isn't really a downside. Bringing back Galaxy-Eyes Photon Dragon means you'll still have a "semi-shield", since once your opponent runs over Galaxy-Eyes, this card will save it from being destroyed and then Photon Dragon's effect is live again. Brining back Galaxy Wizard will mean you'll have to destroy this card yourself or hope your opponent only attacks with 1 monster. So far, this card looks pretty great, but unfortunatly Call of the Haunted is better. Only run this card if you don't run Traps.
Lumenize
:
http://yugioh.wikia.com/wiki/Lumenize
Honest in Trap form. Unfortunatly, it also stops the attack, which means you don't get the 1-for-1 that Honest provides. A really fun card to both protect your monsters and set up for a big push next turn, but a bit gimmicky.
Neo-Galaxy Eyes Photon Dragon
:
http://yugioh.wikia.com/wiki/Neo_Galaxy-Eyes_Photon_Dragon
An anime-fan's favorite. Unfortunatly, this card just isn't powerful enough to justify that -2. It can win games at times, but more often than not, Heliopolis will be a better choice.
Photon Papilloperative
:
http://yugioh.wikia.com/wiki/Photon_Papilloperative
A standard Rank 4, but it has the added benefit of being a "Photon" monster for Galaxy Knight. It competes with Paradios however, since they're both a Rank 4.
Number 88: Gimmick Puppet - Destiny Leo
:
http://yugioh.wikia.com/wiki/Number_88:_Gimmick_Puppet_-_Destiny_Leo
This card's name couldn't have been more suitable, because "gimmick" is exactly what this card is. It only gets an honorable mention because it's an alternative win condition and this Deck has no trouble getting 3 Level 8 monsters on the field.
Adding a Chaos engine
This Deck is perfectly capable of adding a playset of Tour Guide from the Underworld, a Sangan and a Black Luster Soldier - Envoy of the Beginning. Most Light-based Decks that do this will have trouble getting Dark monstes in the graveyard for BLS, but this Deck has 2 solutions. First of all, most Light-based Decks that try to add Tour Guide don't have much Xyz-versatility and especially not in making Dark monsters. This Deck can both make Number 15: Gimmick Puppet - Giant Killer as a Dark Rank 8 and there's a huge list of Dark Rank 4 monsters. Even when all of that fails, you can still ditch BLS for Trade-In, although this should always only be a last resort action. Another added benefit of running a Chaos engine is that this Deck can have cloggy hands at times, at which time a 1-card Rank 3 (most likely Zenmaines) is a lifesaver. Sangan is also the only way to search out Galaxy Wizard (unless you're also running Accel Light) and it can also grab Honest.
Conclusion
This Deck is defenitly a beatdown Deck. Unfortunatly, it also suffers from the same weakness that every other Beatdown Deck has: versatility. Most of your plays are pretty linear and outside different Xyz monsters, this Deck can have trouble responding to threats. In return however, you have a really consistent semi-OTK Deck that can defeat any kind of Deck in mere turns with the right hand or setup.
There's also not a whole lot that people can side against this, which is a huge plus. The biggest counter to this Deck is Torrential Tribute, so be sure to always keep that card in mind when you are making your pushes. Another powerful card against this Deck is Messenger of Peace, which can lock you down if you can't make Heliopolis or get your S/T removal.
The Deck has no trouble Siding, since there's a lot of room for personal tech and meta-call cards. It can also side pretty much any standard Side Deck card, outside Dimensional Fissure (which will ruin your Galaxy Knight and Honest plays). Ironically enough, this Deck doesn't have trouble playing against an opponent's Dimensional Fissure at all, since there's a ton of different ways to summon your Beaters from the Hand or Deck as well.
Well, that's it

I'm not posting a Deck Skeleton, since this Deck is still fairly new and there's a lot of room for debate. The cards that I posted are simply the cards that make this Deck work, so be sure to include those whenever you build a Galaxy Photon Deck!